Madurai: An ancient stone dating back to the 16th century AD was found at Motagam near Te.Kallupatti in Madurai district.
According to the information provided by Muthusamy, the priest of Motakam Karayambatti, that there is an ancient sculpture in his village, Madurai Saraswathi Narayanan College Postgraduate Assistant Professor of History, Pandyanadu Cultural Center Archeology Field Researcher T. Muneeswaran led by Professor Lakshmanamurthy, researchers Anantakumaran and Tamil Selvam conducted field research. It was found to be a Middle Stone sculpture of 16th century AD.
Assistant Professor D. Muneeswaran says, "The practice of planting Nadukal continues in the memory of the hero who died in the first war of the Sangha period. During the Pandyan period, the frontier conflict of Sengudinad excelled in agriculture and commerce. Four feet high by 2 feet wide center stone has 3 lines of letters. In this, except for the line 'Vanan', 'Vananda', the other letters are worn away, so the meaning cannot be understood.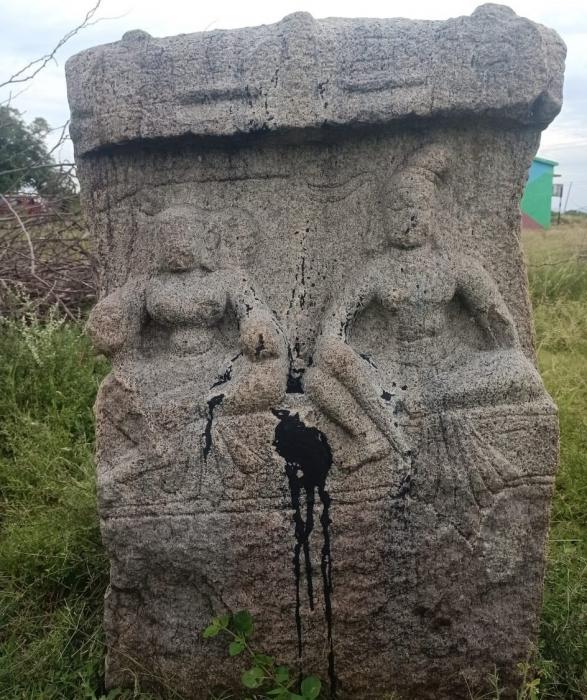 A male and female sculpture is carved on the middle stone in a seated position with the right leg folded and the left leg extended. The anklets worn on a man's leg speak of his prowess. The sword held in the right hand is scraping the ground. The female sculpture sits to the right of the male and is designed parallel to his head with a large flower ornament on the left side. The sculpture can be considered as a 16th century AD based on its font and morphology. He said, "It may be a descendant of the small land king who ruled well in this region."