In this case, he participated in an event to provide free bicycles to students in three schools in Karur. After that, Minister Senthil Balaji, who met the press, said, "We have given free bicycles to students in three schools in Karur today. In Karur, the minister of that department, Mr. D. Mo. Anparasan, attended a seminar for small and medium enterprises, and the chief minister has taken note of many requests of the entrepreneurs and fulfilled them. Accepting the request, an ordinance has been issued.
Already, the Chief Minister has provided free electricity connection to one lakh farmers last year. Similarly, this year the Assembly has announced a plan to provide free electricity connection to 50,000 more people. We are going to provide that too within the next two weeks through the hands of the Chief Minister. For that, all efforts are being made. Calculation of farmers is also being taken.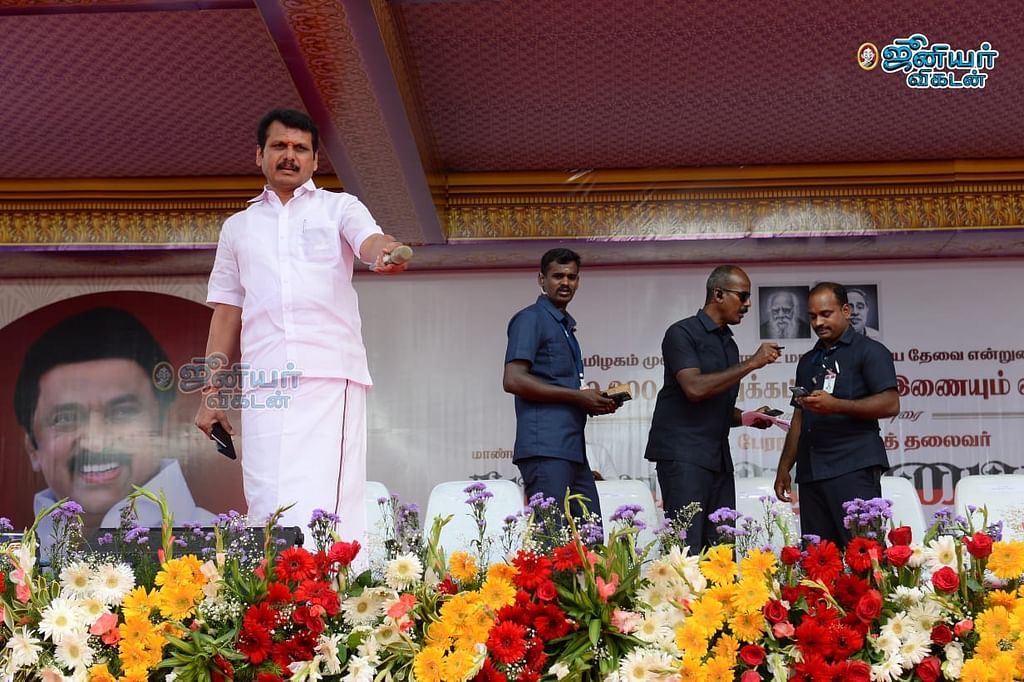 You are asking about Karur District BJP President Senthilnathan asking me to resign. Already, the person who could be in charge of the state in the BJP is without a job. So, if the person in charge of the state is unemployed, how will the person in the district be? That is, an educated fool who pretends to be an educated person.
Please read the clauses in the court order related to that case. If you don't know how to read, give it to an educated lawyer, find out what the judgment says and then ask him to speak. But you also publish what someone who doesn't know about it says. Even if the judgment has come? What should you have asked? I should have asked you to give me a copy of the judgment if you have it. Couldn't have asked. So, if he had a copy of the judgment in his hand, and if he had told you the gist of the judgment, it is fine if you ask me. But you don't have the copy of the court order. The said person is not available.
But, to those who say that they want to say something, you should have asked him another question. That is, when the farmers protested, the son of a Union government minister rammed a vehicle on many farmers and killed them. I think you have asked him whether you will ask him to resign or hold a protest. It's okay if you don't ask, just ask him this next time you meet him. Next time, if anyone gives an interview or complains about the government, ask them to hand over the evidence, if there is a court verdict, hand over the evidence. If you ask what is one thing, it has not been investigated properly in the already held investigation. Therefore, they have said that the investigation in Tamil Nadu should be properly investigated from the beginning. The judgment does not say that the High Court should investigate it. Therefore, if the person who made the comment does not know how to read the copy of the judgment like the head of the state, let him give it to an educated and skilled lawyer, see what comments are contained in it, listen to the explanations and then give his opinion."