Madurai: "A library in the name of the artist will be opened soon in Madurai. The work of setting up the jallikattu hall will be completed and it will be operational. Meenakshi Amman Temple multi-storey vehicle shelter, Tamukkam conference and center have been opened. Various works including underground sewers are going on," Tamil Nadu Chief Minister M.K.Stalin said.
On the ring road near Bandikoil, Madurai, Minister of Deeds P. Murthy house wedding ceremony took place today. Tamil Nadu Chief Minister Mukherjee Stalin's wedding and speaking on the stage said: Minister B. Murthy's son is happy to have the opportunity to officiate the wedding and give the eulogy. Minister B. It would have been better if Murthy had advertised it as the party's zonal conference instead of advertising it as a wedding. He takes nothing for granted.
Whatever government function the Chief Artist or I participate in, he will stamp. As I will do what no one else has done, the Great Creator. He doesn't know how to handle anything. That is why the party should use his son's marriage. He is conducting this trinity with the aim of creating growth, emotion and interest. A person who hits many mangoes on one stone without two mangoes b. Murthy.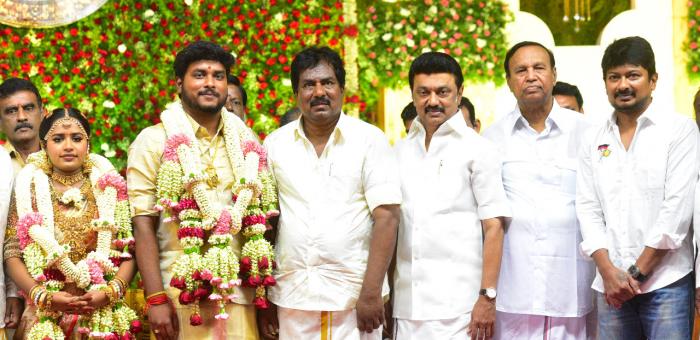 Before forming our cabinet, we discussed who could be appointed as minister. We decided to give P. Murthy a chance in the south. But I was afraid because he was angry. We gave him the Commercial Tax and Deeds Department, assuming that where there is anger, there is healing. We gave with fear. Seeing him in action, he became the pinnacle of patience.
More than my expectation, in order to generate revenue for the government, which was already reeling under financial deficit, with the cooperation of the officials, he completed many projects that generated revenue for the government in various ways. When I go to public meetings, conferences, I prepare some notes and I don't take notes to weddings. But I have brought reference to this marriage.
The highest revenue of Rs.13.913 crore has been earned in the history of Tamil Nadu Registration Department. This is a great historical achievement. Also, a grievance redressal camp is held every Monday in the Deeds Department. Not in the past. Ramp facility for disabled persons has been arranged in the deed registration offices.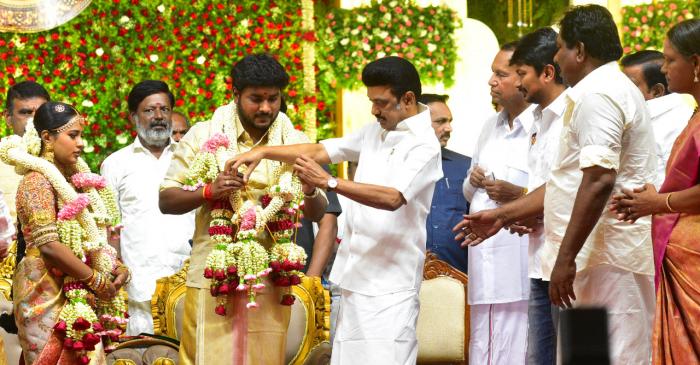 The high platform and barricades in the deed registration offices during the British rule have been removed in the Dravidian model regime. Priority is given to senior citizens. Examined to correct bogus deed records. We made a law in this regard in the Cabinet and sent it to the President. He also gave his approval. This is seen as an unprecedented achievement in India. Chief Ministers of other states are also approaching us in this regard. Like B. Murthy's achievements can go on and on.
If you ask Murthy Perita, Keerthy Perita, according to me, Murthy is bigger. Not only him but all our ministers are competing and working in their fields. The whole country is seeing this. Our government is going according to the faith of the people.
After the results of the assembly elections, when the situation arose that we would form the government, I went to the artist's memorial and paid my respects. At that time, he told reporters, "Thank you to the people who made us win. I will work with the people who did not vote and those who voted for us will be happy. I said that those who did not vote will regret not voting for DMK. As such, we do more than the trust people place in us.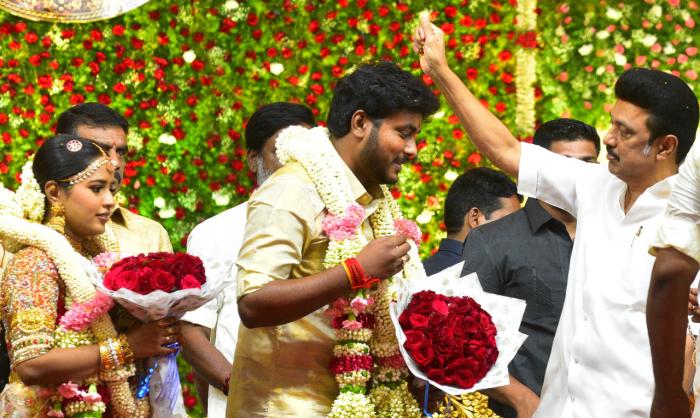 People have unshakeable faith in us. The DMK's victory in the local body elections is proof of that. After becoming Chief Minister, when he went to various programs in each district and zone, unorganized programs also took place. A program that could go on in 15 minutes took up to 2 hours. Young men and women welcome on the way. Submitting petitions with confidence.
I received petitions through Stalin in your constituency. After coming to power, 75 percent of petitions have been resolved. At present, we are bringing a project called Chief Minister in your constituency, we have started a special department for it and are monitoring it continuously. Even if someone stops on my way, I accept the petition. If I am a disabled person, I will go down and buy it myself. Some petitioners say that they have been petitioning for a long time and nothing has happened. That was the previous regime.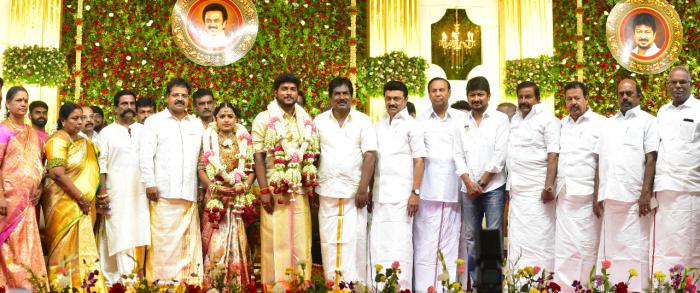 When some people give petitions, they say take care of your physical condition. People have affection for me and the government. We continue to accomplish various feats. Especially in Madurai, a library named after the artist will be opened soon. The Jallikattu Hall will be operational after completion. Meenakshi Amman Temple Multi-Storied Car Park, Tamukkam Conference, Center opened. Various works including underground sewers are also going on. Various works are going on in other districts as well.
Edappadi Palaniswami is doing a comedy on this Chandadi sack. He says DMK MLAs are talking to him. Even his MLAs do not speak to him. He leaves Ulta. Defeat in Lok Sabha, MLA and local body elections after Jayalalitha's death. At present, AIADMK is divided into two factions, OPS and EPS. His post is temporary. He also does comedy to show that I am alive in the country.
We should not worry about anything. There is no time to do good. Palaniswami is planning and propagating evil and lies. No need to talk about it. People have given us the opportunity to do good. Let's do good for people. In such a cabinet B. Murthy has also taken place". This is how the Chief Minister spoke. State Youth Secretary Udayanidhi welcomed the function. Ministers, alliance party leaders and prominent personalities participated.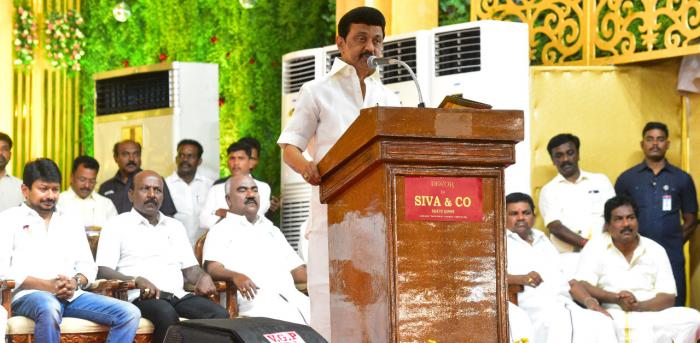 Willing to be MM- CM.. When I toured Nellie last 2 days ago, I was very impressed by the poster pasted in the area. AM ,PM (Morning, Evening) Unseen CM. As, were specified. MM would like to be CM. We should sing for the people without wasting every minute. We are working to raise Tamil Nadu to the top spot," he said