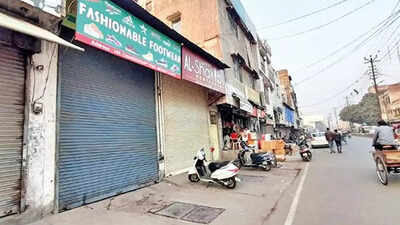 Decades-old scrap shops in Sotiganj have started selling chicken, fast food and clothes after a crackdown by UP police
MEERUT: Weeks after Sotiganj, India's infamous car-breaking and stolen auto-parts market, was shut following a massive crackdown by UP police, traders there said they have been forced to shift to other businesses. Decades-old scrap shops now sell chicken, fast food and clothes. "We are left with no option," one of the auto-parts sellers told TOI on Thursday.
Aslam Ali, who had been running a tyre scrap shop for two decades, has now started selling woolen clothes. Bittu Miyan's rear-view mirror shop is now known as 'Al-Shaquib Restaurant'. Wajid Khan, in vehicle scrap trade for years, is planning to turn his shop into a "fashionable footwear outlet". Several big shops, whose owners are either under police radar or in prison, have been closed since December 12 after the UP government's recent decision to shut down the market. The state's "bold" move had drawn praise from Prime Minister Narendra Modi at a public event recently.
The dramatic makeover of Sotiganj is the talk of the town nowadays. "My father had started our tyre puncture shop when I was just born. It's been 23 years. I don't know why the police are after us. I lost my father last year and now I am the sole breadwinner in the family of six. I have unmarried sisters. I invested all my savings in starting a new business," says Aslam who took loans from friends to buy woolen apparel from Ludhiana.
Small traders say they are sandwiched between "criminals and police". "I have legal documents and all the sale and purchase records, yet I was left with only two options — either change my trade or go to jail," said MS Qureshi who now runs a fast food outlet. Shopkeepers said there is constant surveillance on them. "The PM recently said 'Sotiganj is shut'. We can't fight with the administration now," said Mohd Anwar, who now sells meat.

FacebookTwitterLinkedinEMail