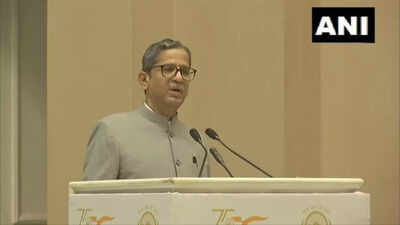 CJI NV Ramana (ANI file photo)
NEW DELHI: New Delhi: Chief Justice of India N V Ramana on Tuesday told women lawyers that he would take up with his colleagues in the present judge-selecting-judge Collegium system for 50% representation of women in the constitutional courts. The Supreme Court has four women judges among 33 and the women HC judges constitute a mere 11.5% at present.
Speaking at a function for felicitation of Justice Hima Kohli by a lawyer organization 'Women in Law and Litigation' (WILL), Justice Ramana admitted that being the CJI is unavoidably stressful but he has to deal with it. ON the demand for 50% representation of women as Judges in constitutional courts, the CJI said he had taken note of it and promised "to take up your demand with my Brothers (four most senior SC Judges) in the collegium".
He said to get women judges, more girls must take up law for graduation. "This is why I had recommended last time for some form of uniform policy of reservation for girls for entry into law colleges across the country," he said and asked – "Whether increase in the number of women graduating from law schools would translate to higher representation of women in the legal profession?"
CJI narrated his personal experience a few days ago at the convocation function of National Law University Delhi, where the number of women graduates was comparable to the number of men. "In fact, most of the medal winners were women. Unfortunately, the majority of them are not willing to come into the profession. Litigation is not their priority. Their preference is for law firms, civil services etc," he said.
Justice Ramana said, "Women constitute on an average only around 30% of the judges in our lower judiciary. Some states have a good number of women judges, whereas in other states the representation is abysmal. In the High Courts, the percentage of women judges is merely 11.5. In the Supreme Court we have four sitting women judges, out of 33 in office. The situation of women lawyers in the country is not any better. Out of 1.7 million advocates registered, only 15% are women."
He said there are many hurdles for women in joining the litigation after graduating in law. Apart from societal pressures, the lack of judicial infrastructure too proves a barrier for them to go to court complexes. "Small courtrooms which are crowded and cramped, absence of rest rooms, childcare facilities, etc. are all barriers. Nearly 22% of Courts in the country did not have washroom facilities," he said.
"All these issues cannot be solved in a day. Many will take years, and even generations. But it needs to be done. There can be no denying that the inclusion of women as judges and lawyers in the country will substantially improve the justice delivery system. Women can bring a different perspective to the law which will enrich the legal field," he said, while assuring the women lawyers that they would have his support if they raised their voice for improving working conditions in judiciary to help increase their representation.

FacebookTwitterLinkedinEMail