Thrissur: Home Minister Amit Shah said that the whole world has ignored the communists and they are struggling to maintain their existence.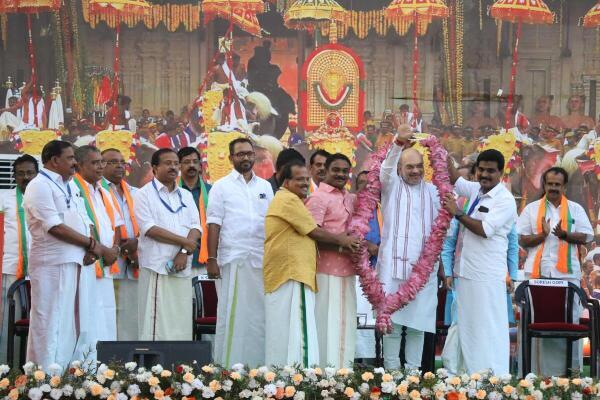 Addressing a BJP general meeting in Thrissur, Kerala, Amit Shah said, "Communist party is the ruling party in Kerala and Congress is the main opposition party against them. In this, the entire world has ignored the communists. They are struggling to maintain their existence. Another party Congress is losing its relevance. The party is on the verge of boycott.
Communists and Congress clash in Kerala. So, they formed an alliance and contested in the recent Tripura Assembly elections. Together they opposed the ruling BJP. But the people of Tripura have returned the BJP to power.
Kerala has been freed from its violence by banning the Popular Front of India. This was done by the BJP government. But neither the Communists nor the Congress welcomed this. The reason for their silence is vote bank politics. But BJP does not do vote bank politics. The organization was involved in violence and working against the country. Because of that it was banned.
The Congress party's public meetings have degraded. Recently, a senior leader of the Congress party spoke slanderously about Prime Minister Modi. I want to say something to Rahul Gandhi. If you project Modi, he will increase in value; As you plan, the lotuses will keep growing. People of Kerala will not accept violence either; They will not accept the violent politics of communists. The people of Kerala should give a chance to BJP led by Prime Minister Narendra Modi in the upcoming 2024 Lok Sabha elections. With the BJP coming back to power, we can see development in Kerala and the entire country," he said.