Tokyo: "It was a bright orange color… It happened like the first sunrise of the year…" recalls Japan's Sade of the deadly attack. Sade, now 90, stands before us as a witness to the worst military attack in history, when America dropped the atomic bomb on Hiroshima in World War II.
As Sade continued to describe it, "I was at my grandmother's house. Just then I heard a thud and I was thrown against the wall. The glasses in the house were broken. My father was picked up by my brother with serious injuries. My father has burns all over his body. I feel sad today that I could not provide water to my father who asked for it. My father died after two days without treatment. My mother also died," says Sade through tears.
The death toll in this massive attack is not yet known. When Hiroshima had a population of 3 lakh, more than 1 lakh people were killed in the atomic bomb dropped by the United States on August 6th. This was followed by the atomic bombing of Nagasaki on August 9, killing more than 70,000 people.
Carrying these tragic memories, the people strolling along the Hiroshima streets are raising their voices to the leaders who have arrived in Hiroshima, Japan today to attend the G7 summit.
"No nuclear war…Leave Ukraine…No war on China" chants echoed in Hiroshima.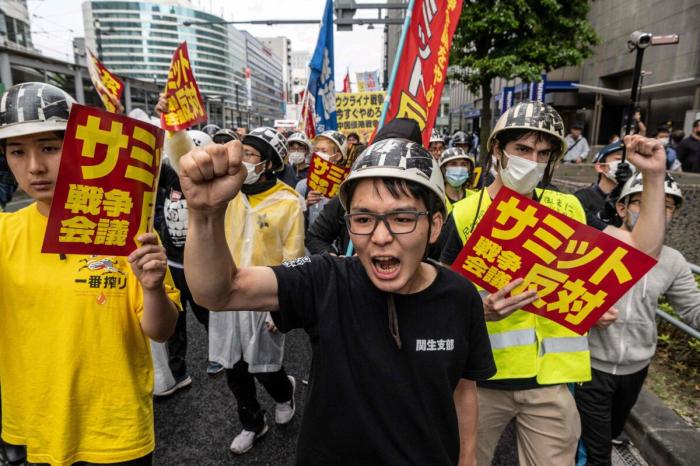 Toshiko, who participated in this protest, said, "All my friends died in the atomic bomb blast. Everyone should realize how dangerous nuclear weapons are to this world. World leaders should look at what happened in Hiroshima. "Imagine what would happen if a nuclear bomb was dropped on your family and friends."
The G7 summit will be held in Hiroshima, Japan from today to the 21st. Following this, world leaders including the United States, Canada, France, Italy, Britain, and Germany have visited Japan.
For the first time, world leaders paid their respects at the Hiroshima Memorial in memory of the victims of the atomic bomb dropped by the United States in World War II.