Hosur: All the more than 20 lakes and water tanks in the Dhenkanikotta forest are overflowing with rainwater due to continuous heavy rains during the southwest monsoon season this year. Elephants have started coming in droves to bathe in the water bodies filled with this rain water.
There are 7 forest reserves including Hosur, Dhenkanikottai, Anchetty, Urigam, Rayakottai, Krishnagiri and Javalagiri in the Hosur Forest. During the last 20 years, severe drought in summer followed by low rainfall during the southwest monsoon has been a regular occurrence in these forests. Thus, in order to prevent elephants from coming to the villages in search of water levels, the forest department has set up 10 drinking tanks in each of the 7 forest areas here in cooperation with private companies and charitable organizations to solve the problem of drinking water for wildlife.
It has been a regular occurrence to fill these water tanks with tractors every year. At the beginning of the current summer, due to intense heat, a drought condition has developed in the forests. To avoid this, the forest department filled the tanks in the forest with water and quenched the thirst of the wild animals.
Meanwhile, District Forest Officer Karthikeyini had issued a statement that the public can also join themselves in filling the water tanks in this forest with tractors. In this case, it is not necessary to fill the tanks in the forest with tractors, so much rain has fallen in the forests this year than ever before, and for the first time, all the water levels including lakes, ponds and puddles in the Hosur Vanakottam Reserve Forests have been overflowing rapidly. Subsequently, all the water bodies in the Hosur Forest Reserve have been filled for the second time due to the unprecedented heavy rainfall in these forests during the Southwest Monsoon season this year.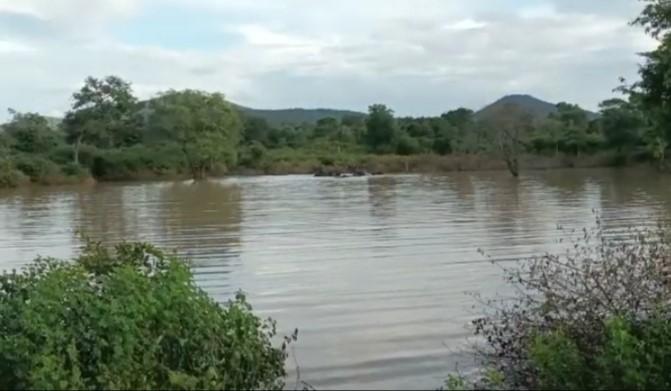 Elephants have started flocking to these water bodies to enjoy bathing in these water bodies. Dhenkanikottai Forest Ranger Murugesan said, "Due to continuous rains in Dhenkanikottai forest during the southwest monsoon season, 13 big lakes, 12 tanks and more than 20 small water puddles including Sami Lake, Mallegoundan Lake and Piliner Pond Lake are filled with rain water.
Wild animals flock to these water bodies. Especially yesterday morning, 12 elephants came in a group at the Mallegoundan lake in the Kullahatty Reserve and enjoyed bathing in the lake for a long time. Similarly, wild animals have started arriving in large numbers seeking lakes including the Sami lake which is filled with rain water.
As the water levels in the forest are full, wild animals are completely prevented from resorting to the villages adjacent to the forest for drinking water," he said.