Hiroshima (Japan): Prime Minister Modi unveiled a bust of Mahatma Gandhi in Hiroshima, Japan today (Saturday).
Prime Minister Modi is in Japan to attend the G-7 summit in Hiroshima from 19 to 21. During this visit, a bust of Mahatma Gandhi was gifted by the Government of India to Hiroshima as a symbol of friendship and goodwill between India and Japan.
The 42-inch tall bronze bust was designed by Padma Bhushan awardee Ram Vanji Sudhar. The statue is located along Japan's Motoyasu River, next to the Atomic Bomb Memorial building, which is visited by thousands of locals and tourists every day.
This place has been chosen as a symbol of unity for peace and non-violence. Mahatma Gandhi dedicated his life to peace and non-violence. This place truly resonates with Gandhi's ideals and life and continues to inspire the world and its leaders.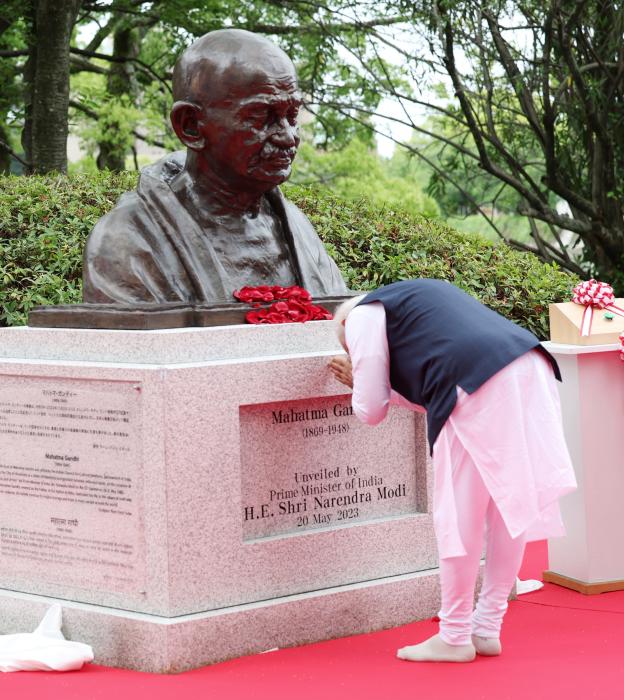 During the unveiling of the statue, Nakatani Zen, Special Advisor to the Prime Minister and Member of Parliament, Hiroshima City Mayor Kasumi Matsui, Hiroshima City Assembly Speaker Tatsunori Motani, members of Hiroshima's Parliament, senior government officials, Indian community members, and many followers of Mahatma Gandhi in Japan were present.