Photos of schoolgirls cleaning toilets in a government school in Guna district of Madhya Pradesh state shocked everyone on social media. In this regard, the state minister Mahendra Singh Sisodia has ordered the Guna District Collector to inquire into the matter and take action against those involved.
According to information circulating on social media, five and six class girls of a government school in Guna district cleaned the toilets of the school with brooms in hand. It seems that the school teachers forced the girls to do this. Also, it is said that on the day of the incident, the headmaster of the school had gone to a counseling meeting.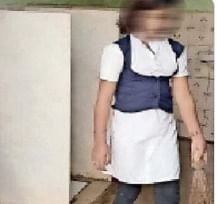 However, the District Education Officer (DEO) denied the reports that the girls were forced to clean the toilets in the school. In this regard, an officer told reporters, "A team from the school education department will come to the school and conduct a separate inspection. We are taking this matter very seriously and are investigating the matter. Action will be taken against those who made mistakes in this matter," he said.