Advertisements in newspapers sometimes cause moral embarrassment. A similar ad is out in Assam. The announcement came as a surprise to everyone.
The person who placed the ad is listed as missing on his death certificate dated 07/09/2022. He also posted the registration number and serial number of the death certificate on it. The advertisement was shared by IAS officer Rubin Sharma on his Twitter page.
Netizens are sharing their opinion after watching the post. Some have asked if the person who gave the ad is asking for help from heaven. Others have jokingly asked where to contact if they find a lost item. Another asked whether if a lost object is found, should it be sent to heaven or hell?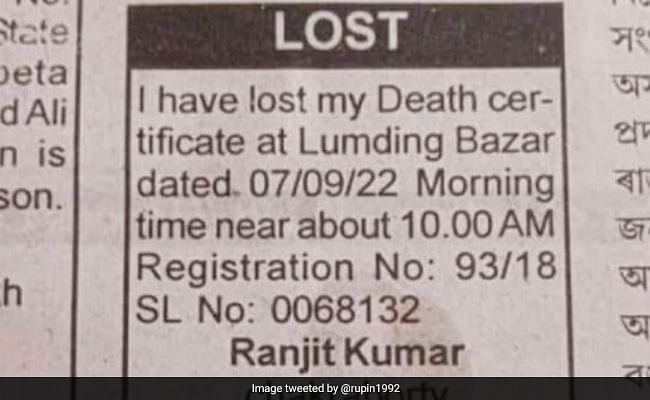 Another noted that it was the first time someone had lost their death certificate. Another netizen wrote in his post, "Someone has lost his own death certificate. If anyone finds it please return the death certificate to him immediately. If not, the ghost will be angry."
It seems that the advertiser should have given birth certificate. But it seems that it was wrongly mentioned as death certificate. Anyway, the person who gave the advertisement, Ranjith Kumar, has become the talk of the internet.