Actor Mylaswamy's son Aram Nayak and Deputy Speaker G. Pichandy's daughter Aishwarya got married in 2019. Chief Minister M.K. Celebrities like Stalin, actor Rajinikanth, director Shankar were present and congratulated.
It was only after Maylaswamy's death that many raised their eyebrows knowing that Mylaswamy's son had married the daughter of Gu.Pichandi. To that extent, Mylaswamy has not disclosed about his relationship. In this situation, I contacted Ku.Pichandi and spoke.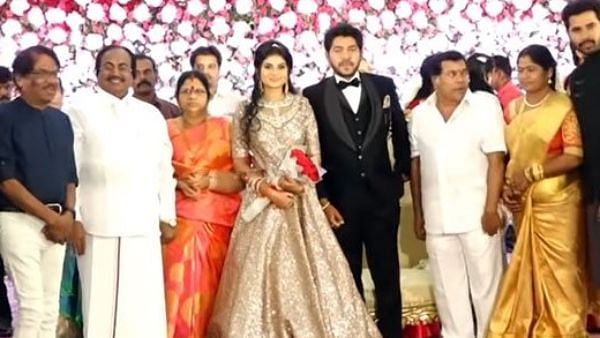 "My sambandhi Myalsamy is a very good person. I am not saying that because we have given away my daughter, he has become a close relative. He is really good hearted. He is very devoted to God. I know him well before we became sambandhi. He visits Thiruvannamalai Deepam regularly. He treats me and my family with respect. I am sending my daughter to his home. "The way he behaved before, the same way he behaved with us even after marriage. He always showed the same love. He never pretended to be my Sambandi anywhere. Because he is a big actor in cinema. Not only that, he was an ardent fan and devotee of MGR. His loss is a great loss for our family." with regret.