New Delhi: More than 16 thousand cattle including cows have died due to a mysterious disease in northern states including Gujarat, Rajasthan, Uttar Pradesh, Madhya Pradesh and Punjab.
People are afraid to buy milk because cows are dying due to disease. People are moving out of villages where cattle are dying.
In 1929, Lumby skin disease was discovered in cattle in the African continent. After that, in 2015, the disease spread to livestock in European countries including Turkey and Greece. In the last year 2019, this disease took root in Bangladesh. Currently, 23 countries in Asia including India have been affected.
First spread in India
Last August 2019, the spread of the disease to cattle was detected for the first time in 5 districts of the Indian state of Odisha. Since then, the disease has spread to cattle in 22 states in the last 2 years.
In particular, lumpy skin disease has been spreading rapidly among thousands of cattle in the northern states for the past few weeks. Out of the total 33 districts of Gujarat, 17 districts have been infected with this disease. More than 12,000 animals, including cows, have died in the state so far.
Intensity of preventive measures
According to the Minister of Animal Husbandry of Gujarat, Raghav Patel, more than 6 lakh cattle have been vaccinated across the state to prevent the spread of the disease. Farmers are being made aware of protecting livestock from disease," he said.
Amul Managing Director RS Sodhi says, "We will purchase 2 crore liters of milk daily from Saurashtra region of Gujarat. At present, the purchase of milk has reduced by half," he said.
Cattle are infected in 16 districts of Rajasthan. 4000 livestock including cows have died in that state in just a few weeks. State Chief Secretary Usha Sharma said, "We are taking various measures to prevent Lumpy Skin disease which spreads to cattle. We are expediting the vaccination program for livestock," he said.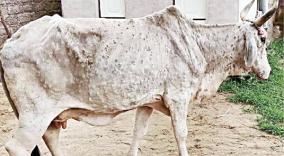 UP Chief Minister Yogi ordered
50 cows have mysteriously died in Gosala in Hasanpur area of ​​Amroka district of Uttar Pradesh. Chief Minister Yogi Adityanath has ordered an inquiry into whether they died of lumpy skin disease or due to some other reason.
The disease has been detected in various northern states including Gujarat, Rajasthan, Uttar Pradesh, Uttarakhand, Madhya Pradesh, Punjab, Haryana, Bihar, Odisha etc. The respective state governments are taking serious measures to prevent the spread of the disease at its initial stage.
Affected cows and buffaloes are lying dead here and there in the pastures of various states. Due to the death of many cows due to the disease, the milk buying public in states like Gujarat and Rajasthan are afraid. Due to this, milk production and distribution in the northern states has been severely affected. Farmers and cattle rearers are facing huge loss of income.
Ram from Dinwari near Jodhpur, Rajasthan said:
150 families live in our village. A large number of cows died in just a few weeks. No one came forward to dispose of them due to fear of disease spread. Local administration is also lax.
Due to the fear that the disease will spread from cows to humans, all the people have left our village. The workers are afraid to even come to work in our village from outside places. The situation is similar in most of the northern states, not just Rajasthan. Central and state governments should act quickly and control this disease. He said this.
Talking about the mysterious death of cows, another farmer said, "There is a widespread fear among the people here that smallpox is a disease that can only affect dairy cows."
The World Organization for Animal Health (WOAH) is headquartered in Paris, France. 182 countries including India are members of this organization.
W.O.A.H. In a statement, "Lumpy skin disease is spread only to cattle. Never transmitted to humans. It has been reported that no human has been affected by this type of disease.
Kataria, a professor at the Kamadenu Zoological University in Gujarat's Junagadh region, says, "When milk from cows and buffaloes suffering from lumpy skin is heated, all the germs are destroyed. Therefore, there is no chance of this virus spreading to humans through milk," he said.
Not transmitted to humans:
Former Vice-Chancellor of Tamil Nadu University of Veterinary Science Dr. S. Thilakar said:
Lumpy skin disease is a newly discovered viral infection. This virus found in South Africa has come to India. Cows are suffering from the fast spreading virus in states like Rajasthan and Gujarat. Cows infected with this virus develop tumors on their skin. Cows are tired without eating anything. The amount of milk will also decrease. Milk from diseased cows can be boiled and drunk. Due to the severity of the disease, organs including the lungs are affected and the cows die. Vaccination is the only solution. But it may take years to find a vaccine. Cows can be saved only if they are given the necessary treatment now. Importantly, the spread of the disease can be prevented by preventing the movement of cattle from affected states to other states. The disease does not spread from cattle to humans. He said this.