Nagercoil: Swamy idols took out in procession from Padmanabhapuram palace in Kumari district today to participate in Thiruvananthapuram Navratri festival. Ministers of Tamil Nadu and Kerala participated in the ceremony of changing the sword of the king.
During the reign of Travancore king, the annual Navratri festival was celebrated in Padmanabhapuram palace. Later, during the reign of king Swathi Thirunal, the festival was shifted to Thiruvananthapuram in Kerala state. To participate in the Navaratri festival, Swami idols of Devarakattu Saraswati, Suseenthram Nunditha Nankai Amman and Velimalai Murugan are taken to Thiruvananthapuram every year from Padmanabhapuram Palace in a procession. For the last two years, the festival was held without pomp due to social distancing due to the Corona lockdown.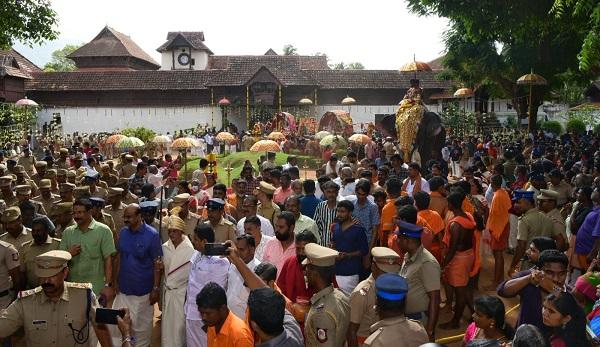 This year, according to the traditional pattern, a police parade was organized to honor the Swami idols. Nangai Amman Vigragam proposed by Suchindram to participate in the function reached Padmanabhapuram Neelakanda Swamy Temple yesterday. From there it reached Padmanabhapuram Devarakkattu Saraswarathi Temple today. Similarly, the Velimalai Murugan idol was also brought there as a vehicle. Later, all the 3 idols of Devarakattu Saraswari, Velimalai Murugan and Nankai Amman proposed by Suchindram arrived at Padmanabhapuram Palace today.
Then tens of thousands of devotees who had gathered in front of the palace welcomed and honored the idols of Swami by sprinkling flowers. Later, the changing ceremony of King Marthanda Varma was held at Padmanabhapuram Palace Upper Palace. After the traditional pujas, the robe was handed over to Kerala Devasam Minister Radhakrishnan by Palace Superintendent Ajith Kumar. He presented it to Tamil Nadu Hindu Charities Minister Shekhar Babu. He gave it to Gnanasekaran, Joint Commissioner, Hindu Charities Department, Kumari District. When he gave it to Sudarsan, the palace servant, he came out of the palace gate carrying the sword.
Then Sarasvari Amman, who was seated on an elephant covered with forehead, followed by Nangaiyamman and Velimalai Murugan, who were seated on a palanquin, left Thiruvananthapuram in a procession. At that time, the devotees gathered there raised devotional applause and sprinkled flowers and sent the idols of Swami on their way. Kerala School Education Minister Sivankutty, Tamil Nadu Hindu Charitable Trusts Commissioner Kumaragurubaran, Kumari District Collector Ma. Aravind, Padmanabhapuram Sub-Collector Alarmel Mangai, S.B. Harikiran Prasad, Parasalai MLA. Harindran, and many others attended.
The idols of Swami go in procession and reach Kulithura Mahadeva Temple this evening. From there, the procession will leave tomorrow and reach Kalikavila border. There, on behalf of the Kerala government, the idols of Swami are given respect and welcome. Overnight stay at the ghee bank. Departing from there, Swami idols reach Thiruvananthapuram Arya Road on 25th. After participating in the Navratri festival, the Swami idols will again reach Kumari district after Vijayadashami.