Hiroshima: Prime Minister Narendra Modi met and held talks with Ukrainian President Zelensky on the sidelines of the G7 Summit.
The G7 summit is being held in Hiroshima, Japan. Prime Minister Modi has gone to Hiroshima to participate in it. Ukrainian President Zelensky also visited Hiroshima. In this case, the two leaders met and held talks between the G7 conference.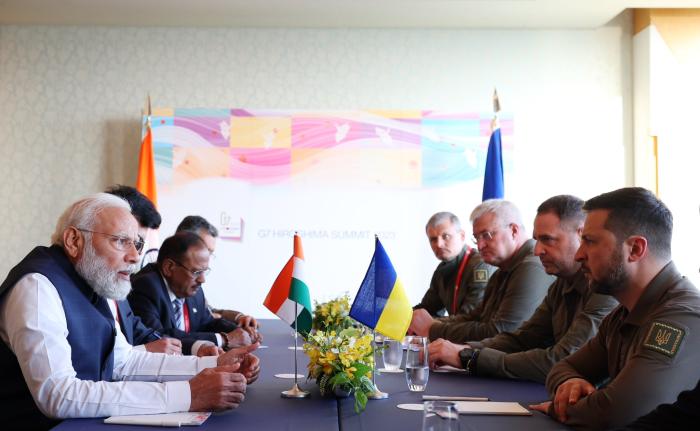 Russia declared war on Ukraine on February 24 last year. This is the first time since then that Zelensky and Narendra Modi will meet in person. During this meeting, Narendra Modi was accompanied by National Security Adviser Ajit Doval and Head of the Prime Minister's Office of Ukraine Andriy Yermak. Earlier, Narendra Modi and Zelensky had several phone conversations. When the war broke out, Narendra Modi had a phone conversation with Zelensky, seeking to rescue Indians trapped in Ukraine.
Commenting on Russia's war on Ukraine, Prime Minister Modi asserted that this is not the time for war and that the two countries should hold diplomatic talks to end the war. Subsequently, the international media commented that Modi has confirmed that India is a reliable country for Ukraine, despite being an ally of Russia. Following this, Ukraine's Deputy Foreign Minister Emini Zabarova, who came to India last month, met the top officials of the Indian Ministry of External Affairs in Delhi.
Prime Minister Modi has gone to Hiroshima, where he met and held talks with UK Prime Minister Rishi Sunak, Indonesian Prime Minister Joko Widodo and UN Secretary General Antonio Guterres. Earlier, he also met and held talks with Japanese Prime Minister Kishida, South Korean President Yoon Suk Yeol, Vietnamese Prime Minister Bam Minh Chin and German Prime Minister Olaf Schalz.