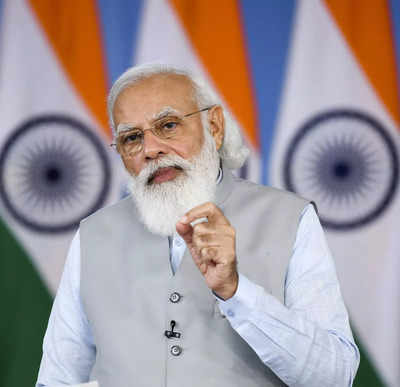 NEW DELHI: Prime Minister Narendra Modi will launch Sansad TV on September 15 along with Vice President M Venkaiah Naidu and Lok Sabha Speaker Om Birla.
Sansad TV was finalised by a six-member committee following a two year-long process to pool resources, rationalise costs and cut extra spends on coverage of parliamentary proceedings by executing the merger of Lok Sabha and Rajya Sabha Television.
To be led by retired civil servant Ravi Capoor, who was appointed its chief executive for one year from March 2021, Sansad TV is likely to have two operational platforms that will telecast live proceedings of the Lok Sabha and Rajya Sabha when Parliament is in session.
During intersession periods, however, according to the committee's recommendation, Sansad TV is likely to operate as a single entity dishing out largely similar content, but available in both Hindi and English. The joint effort will provide synergising rich and diverse content, while focusing on issues that do not find adequate thrust on other platforms, officials said.
Apart from relocating the offices of the RSTV to properties of the Lok Sabha secretariat, administration of the Sansad TV is also expected to shift into the hands of Lok Sabha Speaker Om Birla through the Lok Sabha Secretariat.
The integration of assets and manpower may also lead to some downsizing. While the committee has recommended that the merged Sansad TV be run with a resource pool of 225 to 250 people – RSTV currently has 250 personnel while LSTV has about 110 staffers – there is a broad consensus that about 50 contractual employees may be let go of during the merger.

FacebookTwitterLinkedinEMail