Puducherry: Police arrested hundreds of DMK members, including the Leader of the Opposition and 2 MLAs, who besieged the Civil Supplies Department in Puducherry demanding the opening of ration shops.
The MLA led by Leader of the Opposition and state DMK organizer Siva stressed the demands of abandoning the decision to permanently close ration shops in Puducherry, reopening closed ration shops, immediate payment of outstanding salaries to employees, and provision of essential food items to the public through ration shops. A.K.Senthilkumar, Sampath Party executives and DMK members besieged the Puducherry Civil Supplies Department office and staged a demonstration.
In this protest, DMK state organizer Siva said, "At least 10 kg of rice, which has already been put in the Puducherry ration, should be provided. The authorities are planning to close the ration shops permanently and are moving little by little. Those in power should be ashamed of closing the ration shops and the ration shop employees committing suicide due to non-payment of salaries. BJP – They said that if the NR-Congress coalition government is formed, Palarum and Thenar will flow.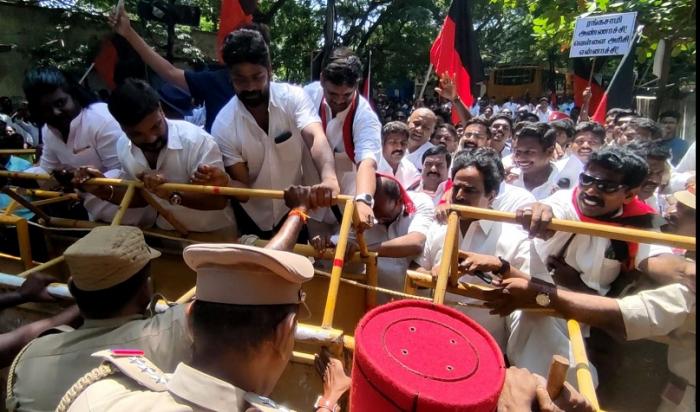 But the ration shops did not even supply the rice that was given to the poor. There are 584 ration shops under Puducherry Co-operative Society, Popsco and Private. No ration shops are open. Why should the rulers go to the BJP-ruled states of Tamil Nadu and Kerala and see the functioning of the ration shops. Do we need a regime that closes ration shops?" he said.
Following the demonstration, the Civil Supplies Department office was besieged and protest was conducted under the leadership of DMK State League Organizer Siva. Then there was a scuffle between the protestors and the police. When the police stopped them with barricades, they tried to cross it. As a result, the police arrested hundreds of DMK members including Leader of Opposition Shiva and 2 MLAs.