Puducherry: The principal of the government college has said that he has gone on a one-day symbolic hunger strike to point out that nothing has happened as promised by the education minister and higher education department officials. He also mentioned that he will resign from the post of college principal on moral grounds if he continues his fast in October and fails to fulfill the duties required of the professors and students.
Dr. Sasi Kanta Das has been working as the Principal of Tagore Government Arts and Science College since 2017. Last year, he sat on the floor for 175 days demanding basic facilities for the students and resolving the demands of assistant professors who have been working for 17 years without promotion. After this, Education Minister Namachivayam and higher education officials said that they would resolve the grievances.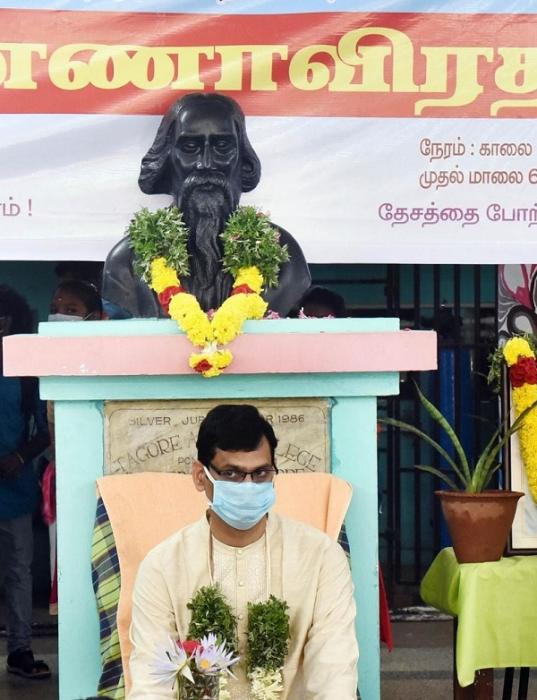 In this situation, Chief Minister Sasikanthadas, who went on a one-day symbolic fast in the college today, said, "We celebrated the country's 75th Independence Day. The higher education department acted by imposing a ban on it. Also, nothing was done as promised by the education minister and higher officials. So, I sat on the floor and did the work. I am coming.It reached the hundredth day with Friday and I went on a symbolic fast to fulfill the demands.
The college does not have enough classrooms and the post of assistant professors has been lying vacant for years. Laboratory and gym should be improved. Adequate bus facilities are required for those coming from far distances. Assistant Professors should be promoted. I am making demands that employers should be paid wages as recommended by UGC on contractual basis.
If the government officials continue to ignore the needs of the government college, I plan to go on a continuous hunger strike from October. If that doesn't work, I am ready to resign from the post of principal on moral grounds if I am not able to perform the duties required of the students and professors of this college where I am working," he said.