Nainamalai Sri Varadaraja Perumal Temple is one of the famous temples in Namakkal district. Perumal blesses the devotees while sitting on the hill with Kuvalayavalli's mother. Devotees from all over Tamilnadu come to this temple. Every year on all the Saturdays in the month of Puratasi, the temple is crowded with devotees. Devotees walk a rough and rugged path, crossing 3,600 steps, to visit Perumal on the hill. Due to the spread of Corona, no devotees have been allowed to enter the hill area for the past 2 years. Special pujas were performed with the idol of Utsavar in the Anjaneyar temple complex at the foothills. Devotees also waited in long queues to visit Swami. Otherwise, they were denied permission to visit Perumal on the hill.
Now that the ban on corona infection has been completely lifted, devotees have been given permission to visit Perumal on the hill on Puratasi Saturdays. Every year, the last Saturday of the month of Avani is counted as the first Saturday of the month of Puratasi and the first Saturday of the month of Aippasi is the Saturday of the month of Puratasi and special pujas are held in the temple. In that way, 6 days of Puratasi Saturdays, namely September 17, 24, October 1, 8, 15, 22, will be celebrated. The temple management is making the arrangements well.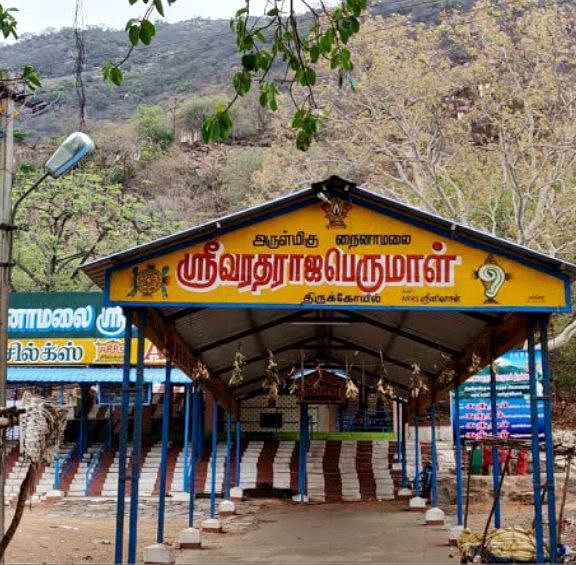 Regarding this, Lakshminarayanan, Executive Officer of Nainamalai Perumal Temple,
"This famous Perumal temple in Namakkal district has not been allowed to devotees for the past two years due to the Corona epidemic. This year, as the Corona infection has cleared, permission has been given to visit the temple.
Every year on the occasion of Puratasi Saturday, the temple walk is open from 7.30 am on Friday morning. The walk closes at 5pm on Saturday. On that morning at 9 o'clock in the morning, special abhishekam and decoration will be held for Perumal. Electric lights are installed on the hill for the pilgrims. Also, drinking water, toilet facilities and medical facilities have been made. For those who cannot go up the hill, a pandal is erected at the base and pujas are held with the statue of Utsawar.
A special fare series of Rs.5 and Rs.25 is being established. Police will be involved in heavy security to avoid crowding of devotees. Also, necessary bathing facilities have been made for those who donate hair. Devotees and members of the public going to the hill temple on Puratasi Saturdays should go safely," he said.