Tithi is the third day after the new moon. Trithi is generally considered a very auspicious day. More so, Chitrai month Varakirai Thrithi is celebrated as Diti Aksayat Thrithi. It is believed that all the ornaments, metals and grains bought on this day will multiply. Similarly, Rambha Trithi is a special and glorious Trithi.
Vaikasi month Varapira Trithi and Kartikai month Varapira Trithi are celebrated as Ramba Trithi. Our forefathers say that worship performed on this day will bring all wealth and improve health and beauty. How did this worship come about? We asked astrologer Bharti Sridhar about how to observe at home.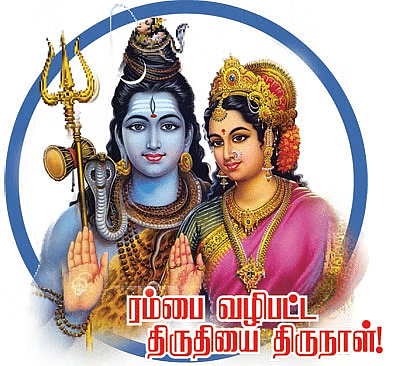 Rambha Trithi
An incident is told in the Purana about the appearance of Rampadhruti. Ramba, Urvati and Menaka are the three divine apsaras. There was a competition between the three of them as to who was the most beautiful and who was the best in dancing. They asked Indra to choose which of them was the best dancer. Indra says that if all three dance, he will be the judge and judge. The dance competition started for the three in the temple.
All three danced well. Ramba started dancing very aggressively to get the attention of Indra. This reduced the delicacy of the dance. Rambha's forehead and Chandraprabha also fell down. Seeing this, Urvashi and Menak laugh and Ramba walks away feeling humiliated.
While engaging in an art, one should only think of that art and should not give room to evil thoughts like anger and jealousy. Kalaivani gets angry with Ramba for allowing jealousy in her heart. Her beauty and art left her.
Distraught by this, Ramba asked Indra himself what is the way to regain her art and beauty.
'Parvati Devi has incarnated as Mother Gauri in the world. She is in Tavakolam under a Makizha tree. If you worship that goddess with fasting, she will bless you. He said that the problems that have happened to you will be solved.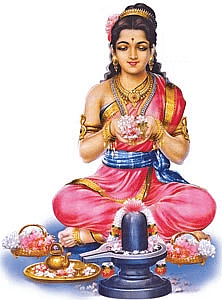 Accordingly, Bhuloka searched for Rampa, mother Gauridevi. One day she found her mother in Tiruppainjnili. She helped Ambika to fast. She also made an effigy (doll) of Manjal Ambika and performed puja after fasting.
Delighted by Rambai's puja, Gauri Devi appeared to her as Swarna Devi in ​​golden color the next day.
Ramba became even more glorious than before because of Anna's darshan. She got a lot of wealth. Ambigai was happy and blessed that "This day of fasting you have undertaken, from today onwards, become a festival where women celebrate 'Ramba Trithiya' in your name".
So if women worship Ambikai on Rambha Trithi, their beauty and talent will be enhanced; Wisdom books say that wealth will accumulate.
Ramba tiriti that ? How to follow?
On Varalakshmi Vratham, we build a mandapam, build a banana tree and worship with an urn. Then one should invoke Ambigai in it and worship by sprinkling flowers and Achasai. Durga and Lakshmi Saraswati can be worshiped by reciting Ashtotras and sprinkling flowers. It is also better to offer an offering made of jaggery.
Thus, if Ambikaya is worshiped on the day of Rambhadirthi, the family will be full of love and friendship. It is good for those who have Venus dosha in their horoscope to do this worship. Especially women who want marriage boon worship Ambikai on this day. Also, if you go to the temple that has the Ambigai temple on the day of Rambhatrithi and worship, you will get the grace of the goddess perfectly. Hope that beauty and wealth will follow.
This year Rambhatridi falls on Saturday 26.11.22. On this day we must worship Ambigai. Metals are generally bullish if bought on Saturday. It also coincides with Akshayath Trithiya on Saturday which coincides with Rambhatrithi. So if those who can buy ornaments or coins made of gold, silver etc. on this day and keep Swami's image at home or worship in the pooja room, wealth is great," said Bharti Sridhar.