Just as eyes are important for all living things in nature's creation, artificially invented cameras have become important for humans today. Such cameras can even be said to be the third eye of man today. The reason is that it helps to prevent and track various crimes, from keeping memories intact. Once these cameras, which were originally a luxury, came into cell phones, it became possible for anyone to take pictures.
One thing that caught on was the selfie craze. It can even be said that almost everyone loves taking selfies. Many people keep taking selfies no matter what happens or where they are, selfies when they cry, selfies when they laugh, selfies wherever they go, selfies when they go on adventures. Then they upload those selfies on social media.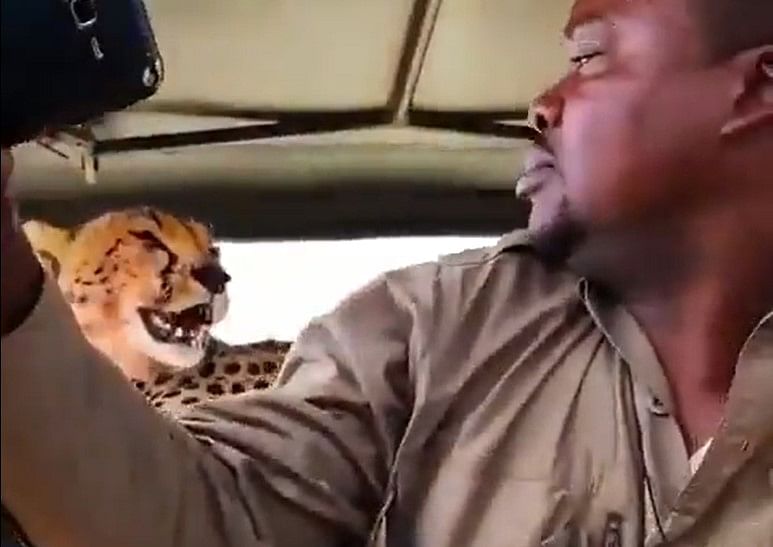 In this situation, a video of a tourist guide coolly taking a selfie with a cheetah is going viral on social media amid many people who get shivers at the sight of a cheetah from a distance. In the video shared by IFS officer Clement Ben on his Twitter page, a cheetah from a distance climbs onto a jeep parked with tourists and sits on the roof of the jeep.
While all the tourists in the jeep are taking pictures of it on their cell phones, suddenly the tour guide coolly comes near the cheetah and takes a selfie on his cell phone. Seeing this, the other tourists look at the man in shock. The video has gone viral and many social media users are commenting on it. One of them sarcastically commented, "It's like a selfie moment with Emrajan."