Karamalai Nagar/Kanchi/ Thiruvallur: Breakfast program for primary school students was started yesterday in Chengalpattu, Kanchipuram and Thiruvallur districts. According to this, food was served to 4,453 students.
The scheme was launched yesterday (September 16) in Chengalpattu district. For food preparation, 3 kitchens have been constructed at a cost of Rs.70 lakhs and 80 thousand at Nandivaram Kuduvancheri, Chiramalai Nagar. From here, food will be cooked daily and sent to the schools by vehicles. R. Rahul Nath launched the project. Following this, breakfast was served to 1,582 students including 969 students in 8 schools in Karamalai Nagar and 613 students in 2 schools in Nandivaram Guduvancheri.
In this program Kanchipuram MP. G. Selvam, MLAs S.S. Balaji, M. Varalakshmi, Managing Director of Municipalities Sasikala, Commissioners Lakshmi, Yumparithi and others participated.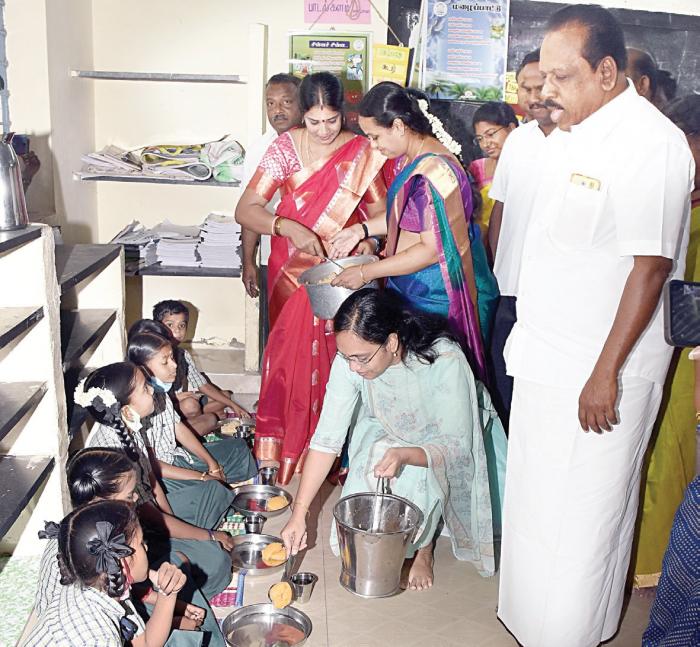 Kanchipuram
In Kanchipuram District, Pattalam Municipal Corporation Primary School District Collector M. Aarthi inaugurated the program by distributing food to the students. According to this, 1,772 students studying in 19 government primary schools run under the corporation were given food.
Food is prepared at the primary school premises on Pudupalaya Street here and sent to the schools by vehicles. MLA K. Sundar, Mayor Mahalakshmi and many others participated in this program.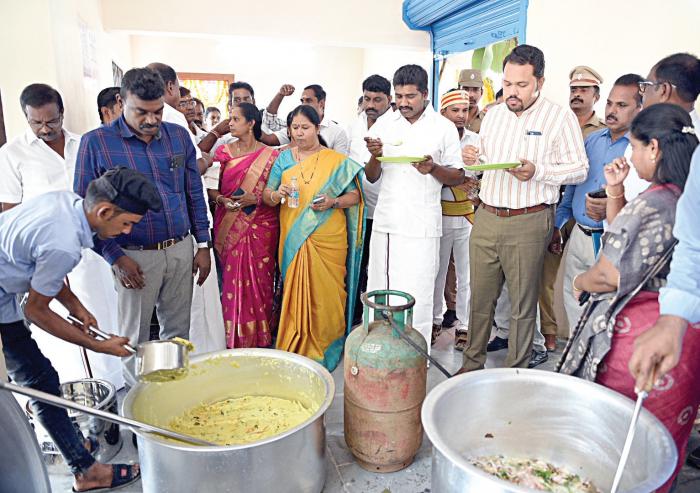 Thiruvallur
Dairy Minister S.M. Nassar inaugurated the program at Tirumullaivayal-Sathyamoorthy Nagar Government Primary School, Aavadi Corporation, Tiruvallur District. The district administration has informed that the scheme which has been started in 6 schools in the first phase to benefit 1,099 students, will gradually be started in other schools as well.
District Collector Alby John Varghese, District Primary Education Officer Raman, Thiruvallur Sub Collector Mahabharathi, MLAs A. Krishnasamy, Durai. Chandrasekhar, Mayor Udayakumar and others participated in the event.
Also, the people of Narikurrava presented flower bouquets and pasimani garlands to the Minister in appreciation of the government's decision to include the Narikkurvars in the tribal list. Subsequently, the Minister also distributed free bicycles to 143 students of the Corporation Higher Secondary School.