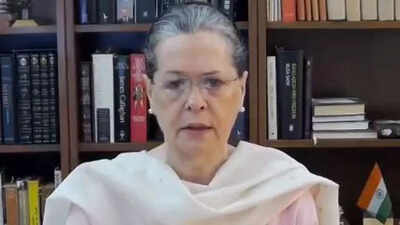 HYDERABAD: All India Congress Committee president Sonia Gandhi has expressed her unhappiness over senior party leaders going to the media about the internal affairs and differences within the party in Telangana.
AICC in charge of Telangana Manickam Tagore relayed this message to top party leaders from Telangana during the Political Affairs Committee (PAC) meeting held for four hours through an app on Wednesday.
All the leaders including Telangana Congress president A Revanth Reddy, working president T Jayaprakash Reddy, Disciplinary Action Committee chairman G Chinna Reddy among others got a earful from Tagore for not working as a team and were told sternly to set aside their differences and work unitedly to bring the party to power in 2023.
Sources close t the top leaders who attended the PAC meeting told TOI that Tagore tried to balance the act by asking A Revanth Reddy to improve his communication with party leaders to ensure that every leader is informed about party programmes being organised. Several senior leaders were upset with Revanth not informing about the agitational programmes being taken up in the districts of which they are in charge.
In the same breath, he told T Jayaprakash Jagga Reddy that indiscipline would not be tolerated and no one would be spared if they go to the media. And that they can bring their grievances to his notice for action to be taken.
Tagore also found fault with disciplinary committee chairman Chinna Reddy for going to media stating that explanation would be sought from Jagga Reddy.
In all, there was a consensus that less than two years are left for the elections to Telangana state Assembly and that Congress leaders should improve their coordination, communication and work hard to ensure that BJP is not give space to grow as the main alternative to the ruling TRS.
TPCC working president T Jayaprakash Jagga Reddy dropped indications that he was willing to even leave the party without creating any problems if the party's top brass thinks he has committed a grave mistake by going to the media seeking removal of Revanth Reddy from TPCC president's post. However, party veteran K Jana Reddy and MLA D Sridhar Babu said such an extreme step would not be needed and that things would be sorted by sitting across the table soon.

FacebookTwitterLinkedinEMail