Hosur: Near Kelamangalam next to Hosur, farmers are worried as the white marigold flowers have scorched due to the hot sun.
Rose, marigold, sentu malli and various ornamental flowers are cultivated in more than 5000 acres throughout the year in Hosur, Thali, Kelamangalam, Dhenkanikottai, Bagalur, Choolagiri areas of Krishnagiri district. Of this, white and yellow marigolds alone are cultivated over 500 acres.
Marigolds are cultivated in consideration of festivals like Ayudha Puja, Diwali, Pongal, Ganesha Chaturthi etc. The marigolds produced here are sent for sale not only to various districts of Tamil Nadu but also to various states including Karnataka and Andhra Pradesh. .
In this case, due to continuous rains this year, marigold flowers were affected by disease. Similarly, heavy snowfall affected the marigold yield. Due to this, the supply of flowers decreased and the price increased. Regarding this, a farmer named Mallan from Muthampatti area next to Kelamangalam says, "It is customary to cultivate white and yellow marigolds in their areas. It has good rooting in all seasons for yellow marigolds.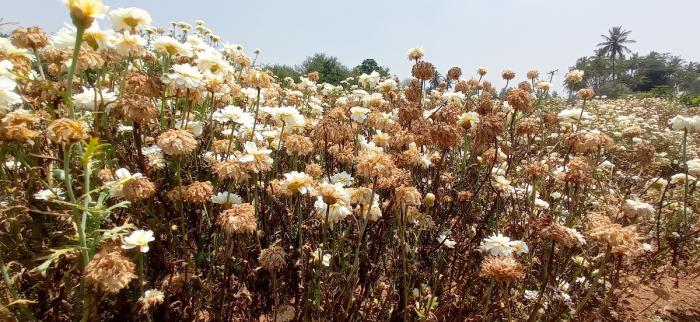 White marigolds are welcome only during major festivals and Onam. The prices available for yellow marigolds are not available for white marigolds. White marigolds will flower and be ready for harvest in 3 months. Yields up to 1 ton per acre. We harvest 4 times a month.
In this case, last month a kg of white marigold was sold at Rs.20, so there was no revenue even for harvesting and export wages. Thus, we left it without watering. Now the price of flowers has increased so we watered again and the flowers grew well.
But now, due to the intense heat, the white marigolds have shriveled and scorched. We have not harvested these flowers as they do not fetch the right price due to poor quality. If it was not sunny, we would have harvested in 2 more months. He said that due to the withering of the flowers due to the sun, the yield was affected and there was a loss.