Yuvan Shankar Raja who spoke after him said, "The re-recording work of the film is going on. I will finish it today or tomorrow. Joining for the first time as Muthiah. The movie is awesome. Karthi, Surya and I are all like a family. It has been a huge journey from school to this far. I don't look for jobs to be a hit. I have worked to make good songs.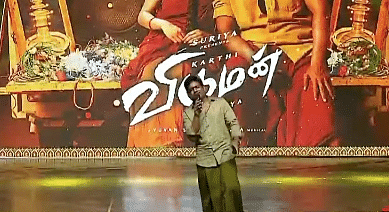 Karthi is the house captain in the school. I will go without shoes. He would come to school perfect and say 'youn out'. He will make me run. I have given you songs that you should sing today to make the day run," he said, flooding the arena with joy.
After that, I know people call me a truck dealer. I don't know what it means. I am happy to think that we are so connected because of music. Go to Madurai… My wife said that you should dress and wear a shirt. Now my wife is the costume designer for all the shoots," said Yuvan with a smile.