The marriage of Thiruvananthapuram Municipal Corporation Mayor Arya Rajendran – Balucherry MLA Sachin Dev, who is known as the youngest mayor of the country, took place today in a simple manner at Thiruvananthapuram AKG Hall. Arya Rajendran and Sachin Dev are acquaintances from CPM Balasangham.
Kerala Chief Minister Pinarayi Vijayan, CPM State Secretary MV Govindan Master and ministers and party officials attended their wedding. Arya Rajendran and Sachin Dev had requested that no one should give any kind of gifts for their marriage and this should be accepted as a request.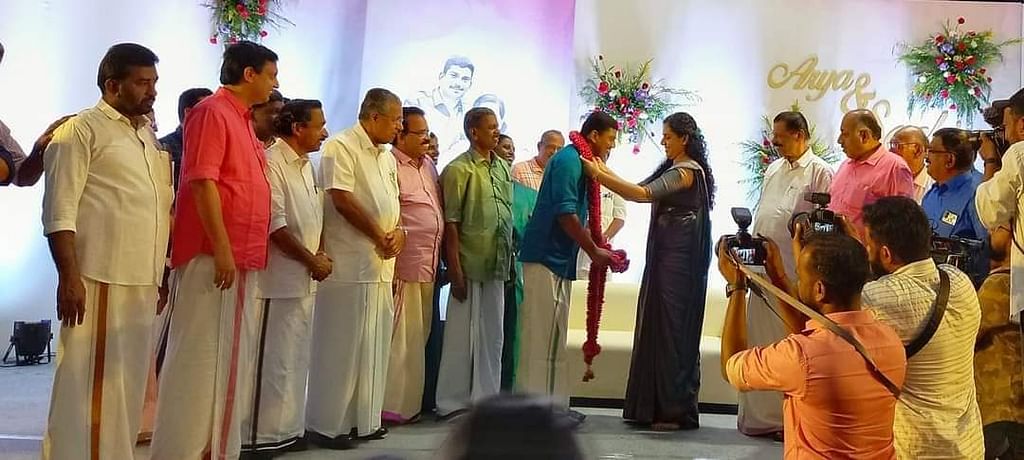 Similarly, they had introduced innovation in their wedding invitations. It is customary to include the names of the parents of the groom and the parents of the bride on the invitations as a warm invitation to the guests. Thiruvananthapuram District CPM Secretary Anavoor Nagappan's name was printed in the wedding invitation card issued by the bride Arya Rajendran saying that everyone is cordially invited. The wedding invitation issued on behalf of groom KM Sachin Dev was printed on party letter pad model. It was printed that Kozhikode District CPM Secretary Mohanan Master was calling.