On Women's Day, when everyone shouts with joy that 'women have achieved, women are recognized', when we pass women on the side of the road in pushcarts toiling for their daily livelihood, a question always arises… 'Is Women's Day really worth celebrating?'
Have you ever wondered how these women cope with the knives thrown at them from this society without any background? Not only those women, but their prams also hold many stories for us. All those stories are the remnants of broken stones of great faith.
Anchalachi – "I am 50 years old. 50 years have passed since Chennai arrived before the blink of an eye. My hometown is Puducherry. I don't know any other business apart from selling water. I don't even read. The husband was there first in the business. But now he is at home as he is old. I do all the work like fetching and selling. Having a street stall is a problem for many people here.
My shop was next to Mayor Priya's office in this area. For 20 years I used to sell water on this trolley there. Suddenly, the new officer came last week and asked them to vacate, saying that they should not keep any shops here. So I am sitting in front of it with my stall in the sun. Our trolley is popular in the area where it used to be. This is my problem. Now it has also become curmudgeon. I would be happy if you allow me to set up shop again at the same place.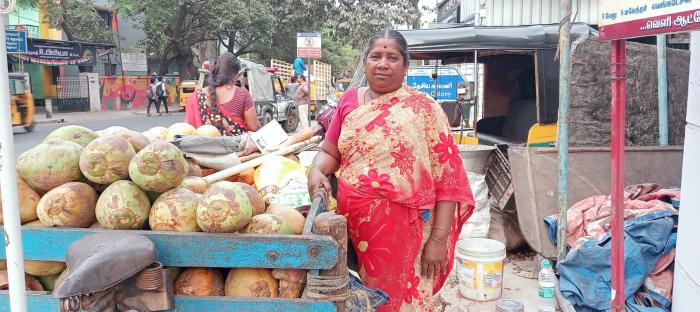 I rely on this trolley to pay rent, food is everything… I have never had so much happiness in my life. I have married two daughters. Both are well educated. They are not allowed to go to work in the groom's house. I have that regret. Women need to stand on their own feet. Look where my shop used to be, there is a big neem tree… I planted it… Whenever I see that tree, I feel some kind of happiness and that is my experience of happiness."
Amuda – "I have been selling fruits from a pushcart for 10 years. Beyond Ponneri is my hometown. My husband left me and my daughter 10 years ago. After that my daughter meant the world to me. She also committed suicide leaving behind a one-year-old son due to family issues. My grandson and I were left without anyone. The only gripe I had then was this shop.
Neither the government nor any charitable organization helped me. I filed petitions everywhere, to no avail. I face problems everyday because of having roadside shop. I have no one to speak for me. I will take care of myself. After a great struggle, due to my hard work, I am now making my grandson study in a hostel outside Chennai. This is the success of my journey.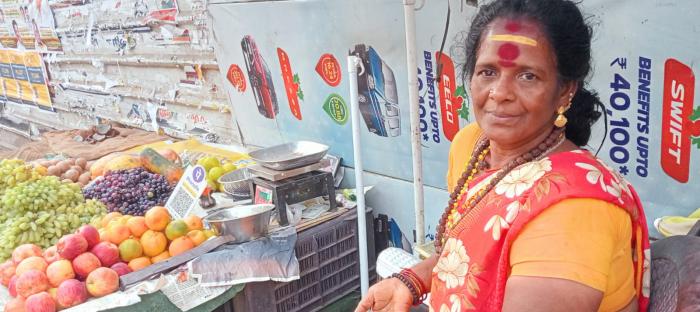 A clean toilet facility is essential for roadside shop owners. It would be good if the government provides that facility. According to me, women should not be dependent on anyone be it husband, father or son, women should not be dependent on any authority for economy. If you are so dependent your life will have no meaning. Read well and stand on your own feet. Don't trust anyone. If there is a problem in family life, if you are not compatible, talk and separate. Don't live with regret for the city. Don't take your own life. Life is once, free to congratulate yourself and leave. Be confident."
Yasmin – "Hometown Nagapattinam. He came to Chennai for survival and now Chennai has become his hometown. I have been running a food stall in a trolley for 7 years. No comfortable family. My husband and I work for our children. There is hope that this labor will one day bring us peace. Let the girls fight and get educated somehow.
Study will help. Don't be confined by what society says at home. This world is vast. The wall is not life for us. Girls, be brave. Don't give up your self respect for anyone. Stand on your own feet with studies and work. The sky will clear."
Rekha – "For about 15 years, I have been selling Kuchi East and corn in the same trolley. The husband does not support the family. In that case, this store helped. I will send my children to study from the money that comes from this. Running a trolley shop is definitely a challenge. Words cannot describe the power that the shopkeepers do nearby. I have to give them a small amount every day. They will let you do the work in peace only if you give them money. If I pay 100 rupees per day, it comes to 3,000 per month, see for yourself. This is how it goes.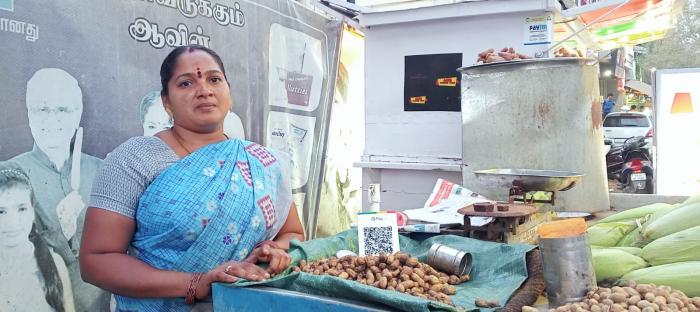 I have never been so happy. This trolley shop is my life. No matter how stressed I am, I run to my shop. My pram will also give me hope that no human can give. I have the same thing for girls. Stand on your own feet. No one knows how times will change. Be ready to face anything alone..!"
May the voices of Anjalachi, Amuda, Yasmin, Rekha keep ringing…
Contact: indumathy.g@hindutamil.co.in