Salem: The Ornithological Society was surprised to find that a rare species of Indian Kalkaudari (Painted Sandgrouse) is roaming in Salem district after 80 years.
Ornithological Society has been engaged in bird surveying in Salem district for the last few years. Many species of birds from different neighboring states and foreign countries visit different parts of Salem district. In the main water bodies including Salem Mookkaneri, Mettur Neethipuram Lake, Thalivasal Lake and in the Servarayan mountain range, birds from neighboring habitats usually come and go in search of fame according to the weather conditions.
Thus, the team led by Ganeshwar, director of Salem Ornithological Institute, has been engaged in surveying and recording the birds that come and go in various water bodies of Salem district for the past few months. At that time, they were surprised to find that a rare species of bird, the Indian calgary, was roaming in Salem after 80 years.
Ganeshwar, director of Salem Ornithological Society, said, "We were monitoring and surveying birds in the Neethipuram lake in Mettur taluk with the Salem Ornithological Society team. At that time, four sandalwood-colored birds, which had never been seen before in the water bodies in Salem's surroundings, were walking. We confirmed that it belonged to the rarely seen, Indian Calcutari species.
There are two types of Calcutaris found in Tamil Nadu. In it, the red-bellied calgary is widely seen here and there. But the Indian calgary is a very rare bird currently recorded in Salem. They inhabit dry open lands, stony grasslands and scrubland. There are chances that cattle herders and local people have seen this bird. In the year 1942, an Englishman named Aubrey Buxton wrote in his notes that he saw Indian Calcuttaris while he was in Salem.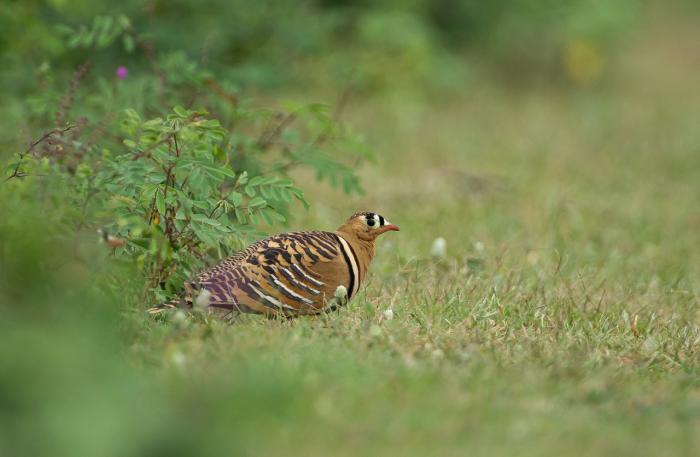 After 80 years now, the arrival of this type of Indian Calcutari in Salem has been documented with the help of photographs. Apart from Salem district, this bird species is found only in Nilgiris, Erode and Coimbatore districts of Tamil Nadu. At present, we can know that Salem district has a suitable environment, natural beauty and seasonal environment for the Indian calgary birds found here. "Continuously, with a team including enthusiasts Raghav and photographer Venkatraman from the Salem Ornithological Society, we are continuously monitoring whether rare species of birds are roaming in the water bodies of Salem," he said.