Madurai: A huge 3 acre 'Oxygen bio fuel park' has been set up by the Tamil Nadu Agricultural University's Agricultural College and Research Center near Madurai.
An average human requires 300 kg of oxygen per year. People started realizing the importance of oxygen only during the spread of Corona virus. Oxygen storage containers have been set up in hospitals across the country to provide oxygen to patients without shortage. Therefore, people and youth are now becoming more aware of oxygen and have started planting trees that release more oxygen in front of their houses and on roadsides.
However, before the last 10 years, Tamil Nadu Agricultural University's Agricultural College and Research Center at Othakkadadi near Madurai planted a huge 3 acre 'Oxygen bio fuel Park' by planting various saplings that give a lot of oxygen.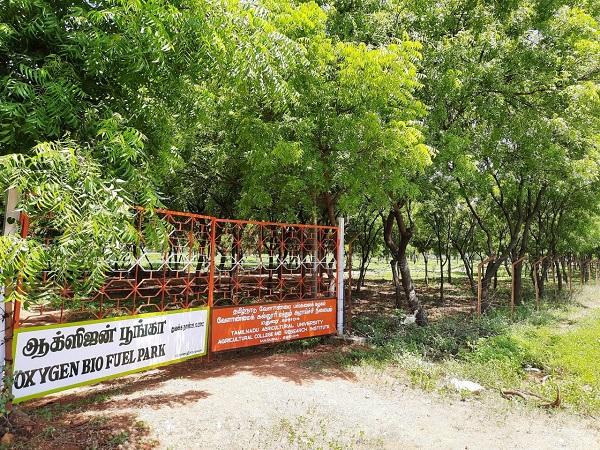 This Oxygen Park is created by planting saplings in a balanced mixture of plant growth promoting bacteria, green manure and farmyard manure. At present, the park is a verdant oasis where the saplings grow into huge trees and attracts people traveling on the Trichy-Madurai road. Soon, plans are underway to convert the four-lane highway into a park with refreshments for motorists to relax.
According to the professors of the College of Agriculture, in 2012, 1,500 saplings were planted in the 3 acres of empty land opposite the College of Agriculture in conjunction with the Forestry Science Conference. There are many kinds of trees in this park including Neem, Ilubai, Bungan tree. As the trees are thick, if you stop for a while at this place, you can feel the wonderful oxygen air and the beauty of the shade. Initially this oxygen park was created only to protect the environment and for rainfall.
At present lakhs of vehicles pass through this park daily on the Trichy-Madurai four-lane highway. It is also planned to set up a park with refreshments in this oxygen park for those who go to these skies to relax. People sitting in parks emit more carbon-dioxide. Trees in the park take in carbon-dioxide and release more oxygen.
So, this oxygen park will help the passengers to continue their journey in good health if they sit in this park for some time. They said that a nature shop and snack bar with tea and coffee will be set up in the park to sell fruits and vegetables grown in the College of Agriculture.