In the nineties, the number of Tamils ​​living in Canada was estimated at 30 thousand. Facilities, benefits and services offered by the Canadian government to new immigrants were only available in English and French at that time. So the Tamils ​​could not know them that much. In February 1991, the first issue of 'Tamil Information' Sanjjikai was published with the aim of providing these in Tamil to fill this gap. Starting from that day, for the last 32 years, 'Tamil Info' has been published every month without fail.
Even as Tamils ​​have become Canadian citizens today, the need for their mother tongue Tamil continues to grow. Mainly – child rearing, family reunification, changes in Canadian immigration laws, employment, higher education opportunities for students in Canadian universities, involvement in Canadian politics, housing, property purchase, business ventures, literary contributions, etc. . In this regard, the departmental Tamils ​​who have been involved in this field since its inception have written in the 'Tamil Information' magazine from their wide experiences. The new generation who are currently working in this sector are also writing and guiding.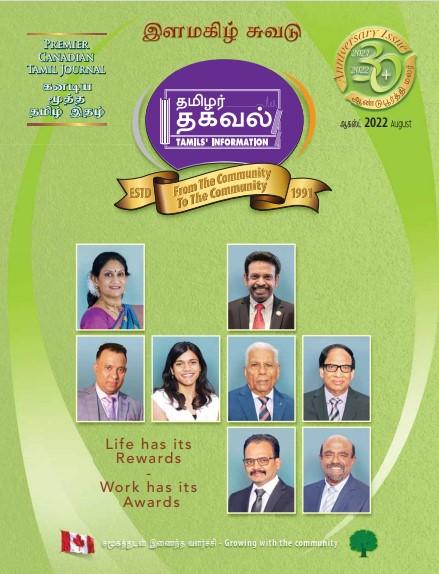 About the journey of Tamil News over thirty years, its editor S. When Thiruchelvam spoke to us, "So far more than 540 people have written in the Tamil Information Journal. As many as 330 of them have started writing in 'Tamil Data' itself. Mainly more than hundred youth and students have written so far. Tamil information has been distributed free of charge since its inception. The purpose of free distribution is to reach more people. It does not get funding from any government and comes out only with the help of the community. Accordingly, we have enshrined the slogan 'From Community to Community' as the main principle on the front cover of 'Tamil Information' magazine.
On the other hand, in the Tamil community living in Canada, Tamil Information has been conducting awards since 1992 to honor the personalities who have tirelessly contributed to the welfare, culture, history, literature, and education of Tamils ​​worldwide, to develop talent and prosperity, and to let the majority of Canadians know this. In the last 31 years, 271 personalities have received 'Tamil Information' awards. Many non-Tamil Canadians have received this award, along with those living in England, Germany, Denmark and Australia. "Toronto Star", one of Canada's major daily newspapers, received the Tamil News Award in 1997 for its impartial media service.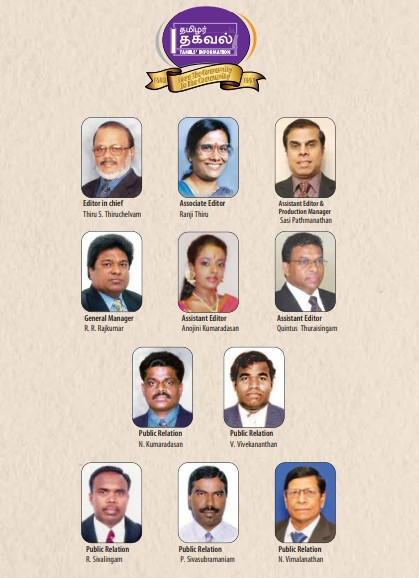 The editor of the Tamil Inform Magazine S. Thiruchelvam did not migrate to Canada for survival. When asked about it, he shared with us with a heavy heart: "Our son Akhilan was shot dead for political reasons. When I lost my son in my own country, I and my wife Ranji were forced to live in Sri Lanka even after that. When we were at a loss as to what to do, Amnesty International contacted us and arranged for us to settle in Canada. Within a few days of our arrival in Canada, we both invited some friends and formed a press group and started this magazine and have been running it for 32 years," he continued.
"Tamil Information continues to provide information free of charge to new immigrants, existing residents and Tamils ​​coming to Canada from various countries. A country's legal programs and practices are subject to change. The Tamil Information Committee is sharing them with people immediately and giving personal advice.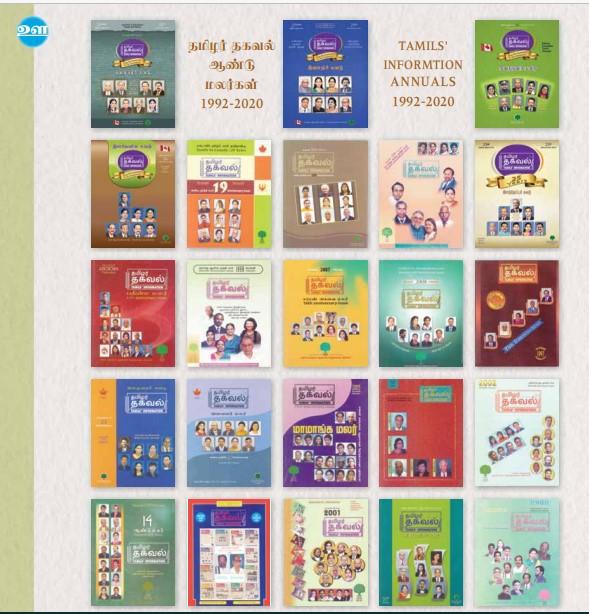 Tamil information has produced many new writers. Many of them have published their own books. In the last 32 years, Tamil News Magazine has published thirty anniversary flowers. The flower launch was postponed due to the Corona disaster for two years. Thirtieth year Malar has come out better than ever under the name of 'Ilaamizh Suvadu'. Young, old and foreign scholars have contributed articles in this flower of 216 pages. said.
For a student conducting research on the Tamil diaspora within a hundred years, it is sufficient to examine old journals of Tamil information. There is no doubt that the fact that the diaspora history of Tamils ​​has been recorded in such detail and depth from time to time is a great repository of information.