"It's the first time we've won an Oscar for an Indian production. Two women have done it. I'm still in awe," said Kuneet Monga, producer of The Elephant Whisperers.
India has created a new history at the 95th Oscars. "The Elephant Whisperers", a documentary produced by producer Kuneeth Monga and directed by Karthiki Konsalve, won the award for Best Documentary. With this, The Elephant Wilburras has created history as the first Indian film to win an Oscar in the documentary category and the third film to reach the final selection of the award list after "The House That Ananda Built" in 1969 and "An Encounter with Faces" in 1979.
Commenting on the win, the documentary's producer Kuneet Monga posted on his Twitter page, "We have won an Oscar for an Indian production for the first time. Two women have done it. I'm still shaking."
Earlier, the documentary's producer Kuneeth Monga and director Karthiki Gonsal were very excited when they took the Oscars stage to receive the award. Then, Karthiki thanked the Akademi for accepting our film.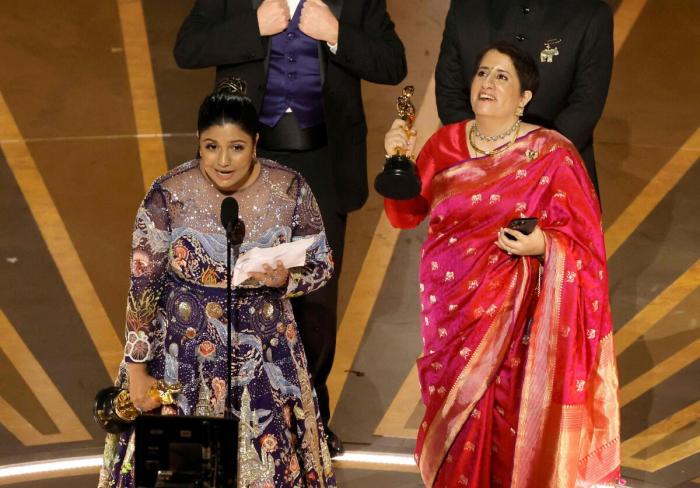 Kuneeth, who posted a long post on his Instagram page, said, "Today is a historic night as it is the first time an Indian production has won an Oscar. India is lit up by two women" and added, "Mom, Dad, Guruji Shukrana, Co-Producer Acchin Jain, Sikkia Team." .Thanks to Netflix, Alok, Sarafina to all.Thanks to my lovely husband Sunny, three month old baby and Karthik for coming up with this story and drawing it beautifully…
To all the girls watching this…here's to a much bolder future. Let's move forward," he said.
'The Elephant Whisperers' is a documentary film about the emotional relationship between the elephants and the couples who take care of the baby elephants who have lost their mother. In it, all four, namely Pomman, Belli, Raghu and Ammu, become one family.
The success of the documentary 'Elephant Whisperers' is based on the unconditional love that the Bomman and Belli couple have for elephants. This documentary, which was released on Netflix in December 2022, has now won an Oscar.
We just won the first ever Oscar for an Indian Production!

Two women did this! I am still shivering

— Guneet Monga (@guneetm) March 13, 2023