The Maldives is an archipelago in the Indian Ocean, about 1,000 kilometers southwest of Sri Lanka. It has long been considered one of the countries most vulnerable to the effects of climate change.
80 percent of the country lies in low lying areas. It is estimated that a significant portion of it will be completely submerged by the end of this century due to rising sea levels caused by a changing climate. Maldives is predicted to flood by 2100 as a result of climate change. The country has come up with a new plan as local authorities begin to explore possible solutions. It's all about creating a new floating city.
About 20,000 housing units are planned for ten minutes by sea from the capital city of Male. The initiative is a collaboration between the Maldivian government and Dutch real estate developer Docklands.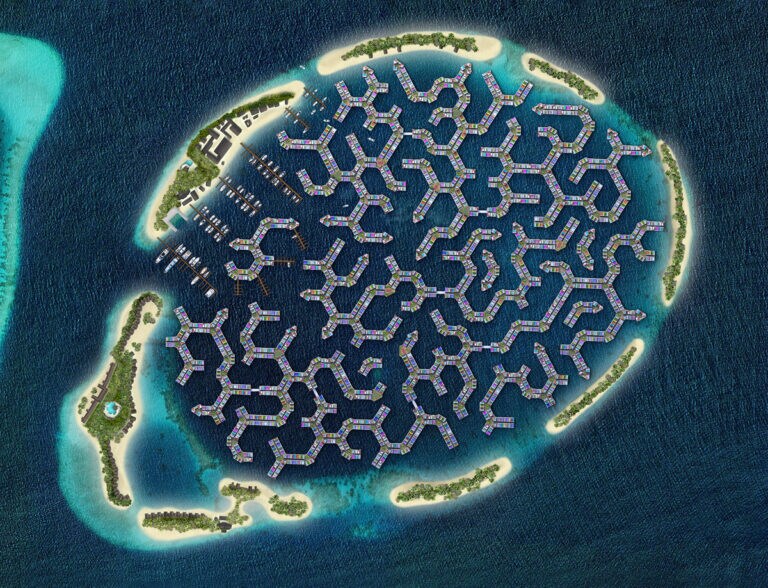 The project is to be carried out by Netherlands-based architecture firm Water Studio. It has been involved in designing hundreds of floating residences, offices, schools and health centers in the past.
The new floating city will cover an area of ​​2 square kilometers and will have thousands of buildings including 7000 houses, restaurants, shops, schools and hotels. The buildings will be powered by sunlight and ocean waves. Purified sea water will be provided. Instead of vehicles like cars, vehicles like bicycles and electric scooters will be used for transportation in the floating city.
Floating buildings are built on land and then towed across the water. There they will be attached to a concrete platform anchored to the sea floor. The reefs of the backwater system will be the bulwarks of the city. Reduces vibrations caused by waves. The first phase of buildings will be completed by the end of June, and the first residents will start living in the city by early 2024. The goal is to create a self-sustaining city like the one on land by the end of 2027.
Soap Box Race: A soap box race that amazed viewers in America
Green technologies will also be used in its construction. The country has said that these buildings will not cause any harm to the nature of the world. If completed, the city of Maldives will be the world's first fully government-built floating city. It said that these houses will be given the same legal powers, leases, rights to buy and sell the house as any other house.
Apart from this, necessary arrangements will be made for the growth of seaweeds and corals under the water.
.