4 brothers and sisters in the same family are doing business converting petrol bikes to electric bikes in North Akagu Nachiapuram in Tenkasi district. Let's see how they convert petrol bikes into electric bikes.
Thought provoking milk business:
As far as Northern Beauty Nachiapuram is concerned, if you want to fill your bike with petrol, you can only fill it on the way to Sankarankovil. There is no petrol station in the town. These 4 brothers and sisters are engaged in the business of selling milk. Every morning and evening they used to take bikes to sell milk. As a result, the cost of petrol increased for them. This gave them the idea that they could replace all petrol bikes with electric bikes. Also, since the elder brother already knows a little about electrical, it is easy for them to start this business.
From your city(Southern India)

At first they converted only their bikes into electric bikes. It has been very useful for them. And the cost of petrol is saved, saving money. Only the people of the town and the people in the surrounding area came to know this information and asked them to do the same for them. Accordingly, this brother and siblings are converting their petrol bikes into electric bikes.
Tenkasi Brothers Converting Petrol Bikes into E-bikes
Even change the cycle:
And they have even converted a 20-year-old MIT bike into an electric bike. Electric bike is currently trending mainly in Scooty. But they convert even old vehicles like TVS 50, MIT into electric bikes. All these bikes are manufactured and used primarily for their own use. At present even the bicycle is being fitted with batteries and is being used as an electric bicycle.
Assault on any bike:
If someone asks them to prepare a new electric bike, they immediately buy an XL bike available in the old iron shop and do all the welding, wiring and battery. Also MIT. They said that they can convert not only Excel bike but also Scooty, Hero Honda and Royal Enfield into electric bikes.
Tenkasi Brothers Converting Petrol Bikes into E-bikes
How fast will it go?
All the bikes they make are made as if they are going at a speed of 42 kmph. Bikes traveling at a speed of 42 kmph do not require a number plate. Apart from that, they also say that they can prepare batteries for home inverters and autos beyond bicycles and bikes.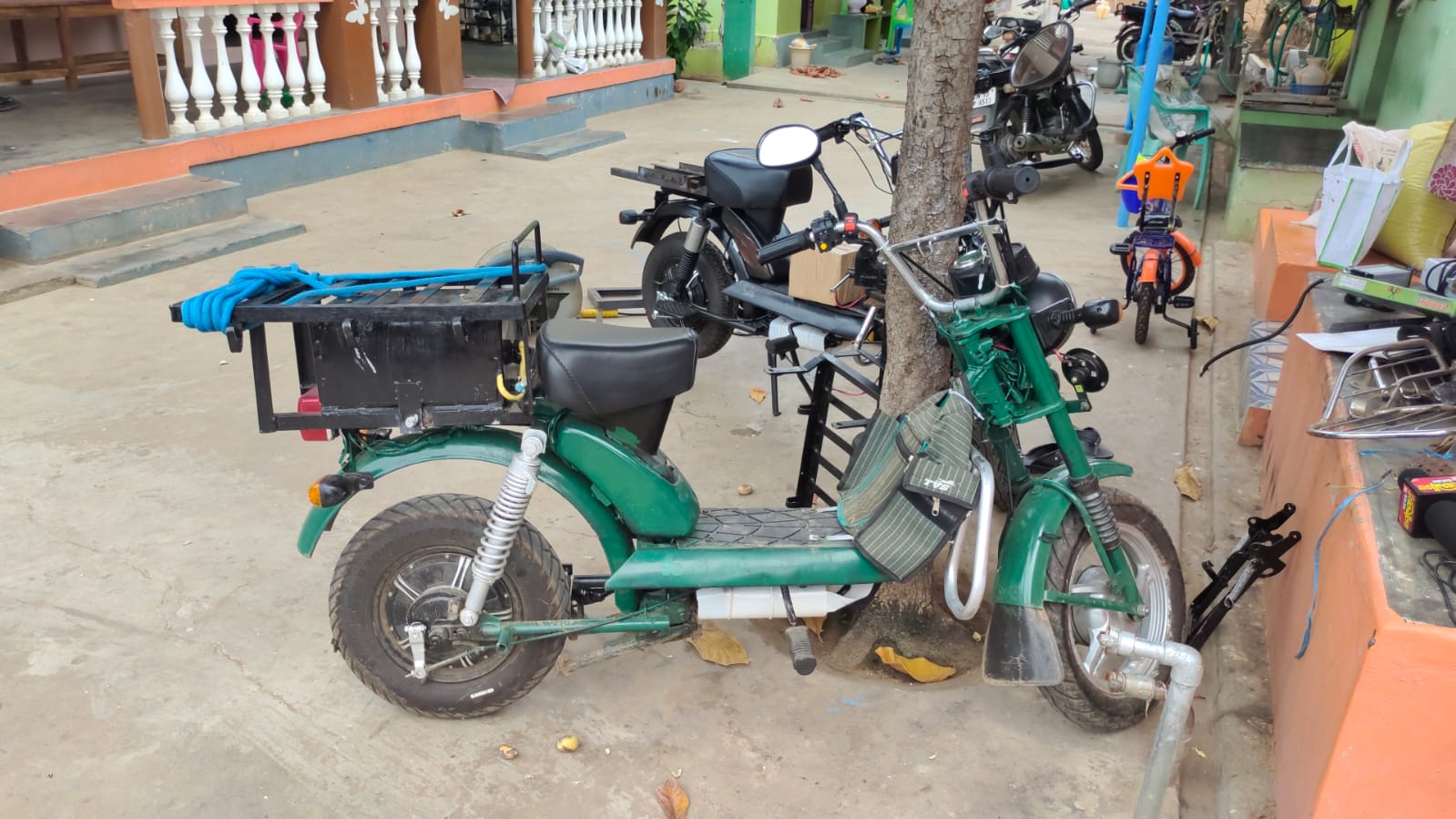 Tenkasi Brothers Converting Petrol Bikes into E-bikes
They also say that they will buy and prepare the petrol bike only for the money generated for the product without making much profit.
.